---
COURSE NAME: Spatial Design Challenge
MAST Challenge 2020 _ TU Graz: on Solidarity
Connected event: Workshop and exhibition In|filtration _ Ein|sickerung
"The unity of the world is nothing other than its diversity, and this diversity is in its turn nothing other than a diversity of worlds. A world is a multiplicity of worlds, the world is a multiplicity of worlds, and its unity is the sharing and mutual exposition in this world of all its worlds."

Jean-Luc Nancy, La création du monde ou la mondialisation
What are the minimum common grounds – in terms of origin, culture and normative behaviour – which are required to signify belonging and to generate a crucial sense of solidarity?
Architecture creates the collective environment of people who live together. It has the potential to generate some kind of common awareness about spatial circumstances and social relationships – a basic precondition for empathy and thus for lived solidarity.
Solidarity as a European or even global value needs to be reflected in relation of a certain spatial environment in which we have to decide how we want to live together and the global situation of conviviality.
Lived solidarity needs open spaces of thinking and acting for a good development of a society. These are spaces beyond interests of economy and political interference like profit maximisation and party political restrictions and control. Lived solidarity needs open laboratories, fields for experiments and platforms of discussion. These spaces are providing a particular atmosphere of an open spirit according to interests of public weal. They are naturally created by humans. People use these spaces, they share them and they make them available for others. But we have to be aware that humans can also control and destroy these free spaces.
Lived solidarity is actually an experience between the permeability of globalisation and the wall building of identity politics and the securitisation of boundaries. It is necessary to develop a Europe of transnational domains delineating some kind of identity, which is created by the experience of social and cultural differences by the movement between places and the exploration of the values and criteria associated therewith. This would be a Europe consisting of liminal spaces, which provoke the debate on the correlation of the confidant and the foreign.
AST makes us sensible for the relationship of culture, nature and society and creates a deep understanding of mechanisms and correlations in between the diversity of worlds.
Workshop and Exhibition June/July 2020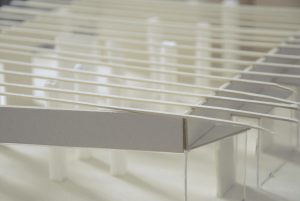 On 3 June 2020, the exhibition in|filtration _ Ein|sickerung will be inaugurated at esc media art lab in Graz, Austria. It carries further the workshop and Intensive Learning Event ILE that took place in April 2019 under the title Algorithmic Space Studies, a collaboration between MAST and Algorithms that Matter (Almat). A generative space and sound installation incorporating the movement of visitors is developed at scale 1:1, based on a design created during the workshop. The exhibition foregrounds the interrelation of AST, the human senses and spatial interference. It revolves around questions of boundary drawing and crossing, where persistent and inconspicuous infiltration through layers and membranes of seemingly separate actors and systems challenge and merge their identities.
Photo: Sandra Jovanovska (MA student, UNG AU) from the workshop: algorithmic space studies april 2019