Link to the next Unicult2020 – www.unicult2020.com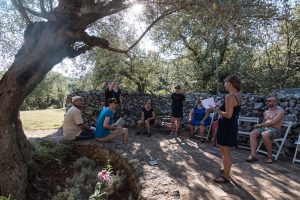 Between July 2 and 16, 2018 the "Unicult" programme hosted a "pop-up"event of MAST that already involved piloting of some key methodologies of the module, as well as an explorations into the topics worth to be treated in the next academic year's full pilot run. Merely to announce the both big "interfacing academy" events of next two years, and to test some crucial methodologies, this hybrid event was distributed between the Croatian city of Rijeka and the island of Cres, involved several prominent names in the field, many acting as MAST associate partners who acted as mentors to a mixed group of students coming from both the MAST partner universities, and from around the world. Also the second consortium meeting took place on July 11 and 12.
The first workshop in Osor (Cres) was lead by a combined mentoring team from Graz Technical University and University of Nova Gorica (N. Castilo and F. Hederer; P. Purg). Fostering ideas around the future worker's identity the participants of the workshop reflected and built on own change-stimulating personal and social skills, both as leaders and creators within cultural industries. The first week of the workshop was dedicated to define an Inquiry within the urban scape of Rijeka, develop a Solution, and then transfer it into the rural setting of the Cres island, by developing, during the second week, a Project (Solution Statement and/or Pilot Action, Artwork etc.) at the crossing of Art, Science and/or Technology.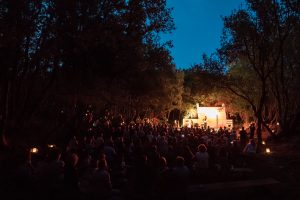 In 2019 the first big  "Interfacing academy" event is to be hosted by University of Nova Gorica, as well as Kersnikova, in combination with the Unicult programme (of the Croatian Cultural Alliance), where most of the methods and results of the first piloting year of the MAST module are to be featured and discussed for further development. The academy event concept is based on the rich and internationally renowned Unicult programme legacy in arts & cultural management discourse and policy development, which it consistently expands with the art+sci+tech (crossover) topics and methodologies.