In what way can the imagination of artists and their creativity tools bring about true novums at the crossings of technology and science, tackling the most complex challenges of the future, both for society at large, and the industries in particular?
22-24.9.2020

>>  Detailed Programme below >>
VIDEO RECORDINGS of the individual sessions can also be found below or on our fb page @MASTermodule >>

Participants from a variety of disciplines have jointly explored and identified the vectors of possible policy impacts and priorities for the future of Europe as well as created alliances for forward-thinking future actions. 

The range of events has included a short but cutting-edge symposium with four acclaimed speakers. The Hybrid Interfacing Academy has also featured a speculative situation to stimulate new pivotal points of innovation processes with a radical approach. Different stakeholders have been brought together to ideate primarily with(in) the artistic realm by adopting the methods and formats of a "challenge lab" — which is also the core of the recently accredited master study module of MAST! In addition, an overview of best practices and experiments on how "art thinking" could empower future "catalysts of innovation" were provided in an exhibition, presented live by MAST students and mentors. Moreover, two policy-making workshops have been organised with strategically architectured lists of participants — one pivoting around burning matters of education, the other in the realm of industry.

The event itself presented the pinnacle of the MAST module project, supported by Creative Europe, dedicated to developing an applied study module at the intersections of Art, Science and Technology, combining methodologies and practices that intertwine the academic sphere closely with the Culture and Creative Sectors. 
>> VIDEO RECORDINGS OF THE SESSIONS can be found below or on our fb page @MASTermodule >>
---
PROGRAMME OF THE MAST HIA EVENTS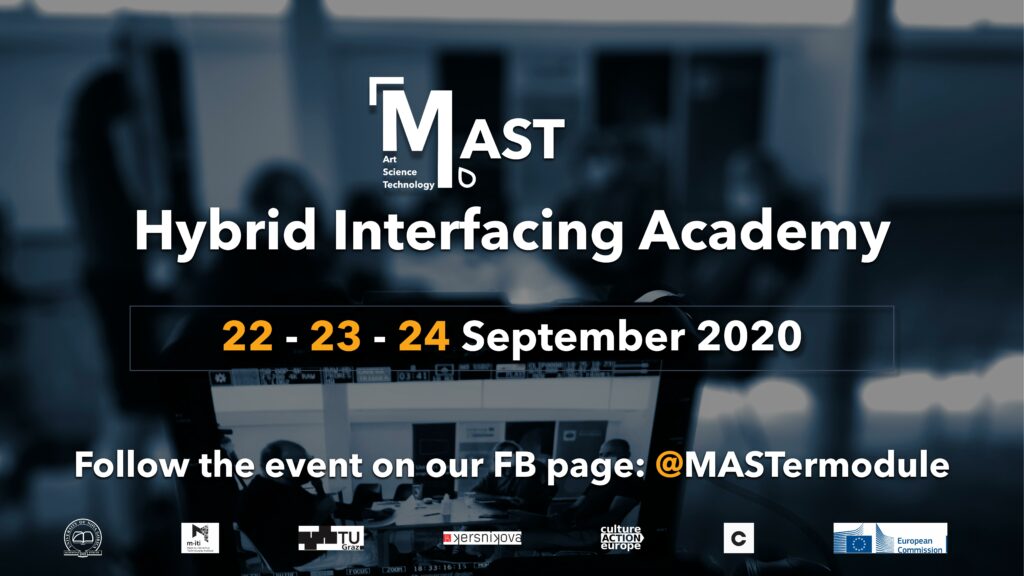 DAY 1   |   Tuesday, 22. 09. 2020

---

throughout HIA
ONLINE, exhibition @Kersnikova Institute

10:00 – 12:00

LIVE STREAMED @ FB PAGE from University of Nova Gorica School of Arts.  Video available

The key aim is to discuss the potentials of the Art-Science-Technology blend in higher education for pedagogy, research and especially radical innovation.  The workshop shall identify assets among the participants, apply them to discerned needs and opportunities, in order to prototype both formal and non-formal implementation formats for a common European future in A-S-T education. The workshop will include primarily academics including student representatives as well as employers from a broad range of CCIs including the NGO sector and the tech industry. Secondarily it invites policy makers in order to explore the viability of policy support and potential change to instigate a positive integration of the A-S-T innovation methodology.

SPEAKERS:
Peter Friess – Future Media, Social Network Innovation, Science-Technology-Arts / Media Policy, European Commission, DG Connect, Brussels, Belgium
Sanja M. Bojanič – University of Rijeka, Academy of Applied Arts, professor and vice-dean, executive director of CAS SEE, Croatia
Christophe De Jaeger – Director GLUON, BOZAR Programme Manager BOZAR Art & Research, Brussels, Belgium
Jana Javornik – Director at the Higher Education Directorate, Ministry of Education, Science and Sport, Slovenia
Olivera B. Sretenovič – University of Arts in Belgrade, Faculty of Applied Arts in Belgrade, Serbia
Sašo Sedlaček – Vice-dean for R&D at Academy of Fine Arts, University of Ljubljana, Slovenia
Peter Purg – MAST project lead, University of Nova Gorica School of Arts, Slovenia (workshop moderator)

Facilitated by  prof. Peter Purg, PhD, Akademija umetnosti Univerze v Novi Gorici
Location: Live on Mast Facebook page from Kersnikova Institute, Ljubljana

17:00 – 19:00

LIVE STREAMED @ FB PAGE from Museum of Modern and Contemporary Art Rijeka. Video available

The UNICULT @ MAST will take place at the Museum of Modern and Contemporary Art Rijeka. The topic of the 6th Edition of Unicult2020 is "Culture in Transition – heading towards a more innovative and equal society". The subtopic this year will focus on "Professional and Personal Development in AST" where the MAST guide will be presented along with the shared experiences and perspectives from artists, scientists and curators. The online speakers and pre-recorded lectures will address students, policy makers and leadership structures in arts and culture, alongside with the general public.

SPEAKERS:
Milena Dragićević Šesić – head of the UNESCO Chair in Cultural Policy and Management, professor of Cultural Policy & Cultural Management, Cultural Studies and Media Studies.
Jan Fabre – Belgian multidisciplinary artist, playwright, stage director, choreographer and designer
Luk Van den Dries – dramaturg and full Professor of Theatre Studies at the University of Antwerp, Belgium
Ivana Jozic – dancer and actress at Troubleyn, Belgium
Phil Griffin – artist, photographer and director

Facilitated by Daniela Urem, producer and founding president of the Doors Art Foundation , NY, and the Croatian Cultural Alliance – CCACroatian Cultural Alliance
Location: Live on Mast Facebook page from Museum of Modern and Contemporary Art Rijeka


DAY 2   |   Wednesday, 23. 09. 2020

---

10:00 – 12:00

 Video available

The roundtable discussion will address the methodologies, good practices and outputs of Intensive Learning Events, facilitated by the MAST project. In an in-depth conversation with facilitators and students, involved in the activities, we will try to present the best experiences and provide best examples upon which future educational approaches within art, science and technology studies may build their programmes. Online speakers will include:

Keynote speech by Lev Manovich
introduced by Daniela Urem and Nayari Castillo-Rutz.

Open discussion with Lev Manovich – with Hanns Holger Rutz, Nayari Castillo-Rutz, and Franziska Hederer (Graz University of Technology, MAST mentors) & Chris Csíkszentmihályi (MAST mentor)

Duarte Luis de Sousa, Carolina Silveira, Helene Thümmel – MAST Students from University of Madeira, University of Nova Gorica School of Arts, Graz University of Technology, respectively).

Facilitated by: Nayari Castillo-Rutz, and Franziska Hederer, assoc. professor, Institute for Spatial Design @ Graz University of Technology
Location: Live on Mast Facebook page

14:00 – 16:00

from Kersnikova Institute, Ljubljana. Video available

The Challenge Lab discussion will delve into the concept of the Situation Room – a setting within which an interdisciplinary group, interested in taking part in an innovation process is put in front of a challenge – to provide a technological innovation, an application of a technological innovation in the society, or a social innovation. Such process is to be facilitated by an "innovation catalyst", a professional profile which is being built through AST study modules, such as MAST. The discussion will will give a deeper insight of the terms such as: challenge lab, innovation catalyst, and art thinking.

SPEAKERS
Simon Mokorel – Project Designer and Design Engineer
Jurij Krpan – Art Director at Kersnikova Institute
Sergi Bermudez i Badia – Professor at Madeira Interactive Technologies Institute
Peter Purg – Assoc. Prof. PhD, University of Nova Gorica School of Arts, MAST project lead

Facilitated by: Jurij Krpan, Kersnikova Institute
Location: Live on Mast Facebook page


17:00 – 18:30

The goal of the panel discussion is to bring together policy makers, artists and academics, to debate about the interdisciplinary challenges of open innovation in the interface of the Arts, Sciences and Technologies. Artists and designers shape another relationship between science, technology, and human beings, this dialogue stimulates innovation centred on transversal competencies and unconventional thinking. The combination of artistic research and participatory design strategies is key to find divergent approaches to sustainable development of science and technology, and to transform their social and economic impact. It is necessary to create a context of possibility for the development of skills, knowledge and tools from experimental and collaborative environments, as well as research methods in art, social sciences, sciences and technology, and cultural studies.

The discussion will focus on critical, ethical and sustainable ways of cross-collaboration between art-science-technology and the available and needed policy instruments to develop collaboration between artists, academia and industry. Participating speakers:

Viviane Hoffman – Deputy Director-General for Education, Youth, Sport and Culture, European Commission
Barbara Stacher – European Commission, DG EAC, Cultural Policy Unit
Michela Magas – Innovation catalyst who bridges the worlds of science and art, design and technology, more
Marko Peljhan – Media artist, professor and entrepreneur – new media arts and technology, more
Peter Purg – Assoc. Prof. PhD, University of Nova Gorica School of Arts, MAST project leader

Moderated by: Tere Badia, Culture Action Europe
Location: Live on Mast Facebook page 


DAY 3   |   Thursday, 24. 09. 2020

---

MAST EVALUATION ROUND TABLE

11:00 – 13:00

This semi-internal round table will be focused on the MAST project itself – how it came to be, how it developed through the activities and how it adapted to the everchanging feedbacks, circumstances and environments, and how it will continue beyond the project conclusion. Students and other participants will join the project partners in a discussion and provide thoughts and feedback via comments.

---

ADDITIONAL DAY  |   Friday, 13. 11. 2020

The aim of the workshop is to present the guidelines, mechanisms and opportunities for collaborations between the creative sector and industry, where the aims are the establishment of a sustainable and ethical economy and collaboration between the artistic sphere and various communities at social innovations.
The workshop will address the interests of artists, researchers, engineers, producers and other stakeholders within the creative sector, and the role of the arts within a contemporary society at researching future technological and societal phenomena.
The workshop consists of two parts. At the beginning of the workshop, the representatives of creative sectors and the industry will present policies, mechanisms and activities of implementing the creative sector within processes of innovation and into the economy. This will be followed by a practical part where we will be evaluating the potential of specific artworks for innovation through an "art thinking" (based on "art-driven innovation" methodology by In4art). We will conclude the workshop with a short evaluation of the methodology and its potential modification. Participating speakers:Jurij Krpan (Kersnikova Institute): Introduction into policies that encourage the introduction of arts into processes of innovation
Žiga Lampe (Chamber of Commerce and Industry of Slovenia – CCIS): Presentation of CCIS's various mechanisms of including creative sector into processes of innovation
Natalija Medica (Ministry of Economic Development and Technology): Presentation of Ministry's activities of connecting the creative sector with the industryFacilitated by Jurij Krpan, Kersnikova Institute
Location: internal workshop, VIDEO RECORDING of the session will be available after the event.

internal workshop, VIDEO RECORDING of the session will be available after the event
The Challenge Lab Situation Room will simulate a situation of solving a specific challenge among various stakeholders. The simulation will take place via a digital workspace and will be streamed online on designated communication platforms, with viewers being guided through the process by live narration of the innovation catalyst (Jurij Krpan, Kersnikova Institute) and being able to comment and interact with Q&A via live chat.
Location: Mast Facebook page.
will be  PUBLISHED AT A LATER DATE, exact date TBC